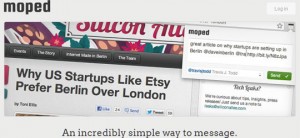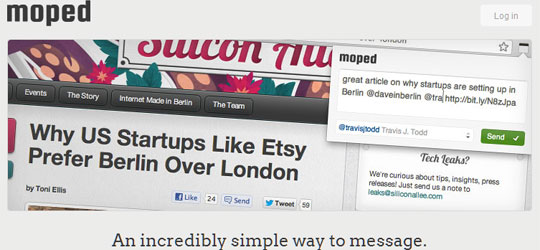 Moped is an exciting Berlin startup founded by Schuyler Deerman, and claims to be "An incredibly simple way to message". Our interview with Schuyler:
Why have a web-based communication service that makes moped.com different than the usual chat services or Twitter?
At the moment, Moped does well at being everywhere — Moped works across iPhone, Android, web browser – we even have a Chrome extension! That's just the beginning, there's a lot more to "Everywhere."
In all of these channels, your conversations and contacts stay synchronized. That means I can start a conversation with you on my iPhone and finish on my Android or laptop. And as we build out the next generation of really exciting features, they'll all be there too.
Regarding next-gen features, we think that's where Moped will really separate itself from the pack… you'll have to stay tuned, as we're keeping them under wraps for now.
You are coming from San Francisco, the "ideal region" of all the founders, and bring Moped in Berlin at the start. Why Europe and why Berlin?
I had been living in Berlin for a while before starting Moped. After spending 6 months in San Francisco, I realized that I didn't have to be there, and I could make more of a splash starting here.
My network, the lower costs, the general energy and scrappiness are all contributing factors in the move back. Also, Berlin was starting to gain some momentum of its own as a great place for Internet startups. It was good timing, and I was able to pull together a team and funding.
Who supports the StartUp financially, and how could you convince the financiers of the business concept?
We're backed by Betaworks and Lerer Ventures in New York, SV Angel in San Francisco and Earlybird in Berlin (and a few pretty awesome angels). They love what we are building. They are bought in to the product vision, which is what we're focused on now. We think the space has plenty of business opportunities, but right now we're just focused on product.
How will your team to convince the sworn Twitter or Facebook fans by moving to Moped?
It's not a question of switching. We have fundamentally different uses. Facebook, Twitter, Pinterest even, are all primarily public sharing platforms. We are about 1-to-1 or 1-to-few private communication. We intend to be the best in the world at that.
How did the name "Moped" about, he has something to do with the German meaning of the word?
Moped means the same thing in English. Mopeds (scooters) are quick, mobile and easy. We think that describes Moped the service pretty well, too.
Moped is looking for employees. Whoever comes into this issue and can get in touch with you?
We're always looking for hungry web developers and designers. If you're a web developer who's excited about working up and down the software stack, get in touch. You can email jobs@moped.com. But, we really like people who get on Moped to message us! ;) I'm @schuylerdeerman.